Limited-time Offer for

Webinar Attendees!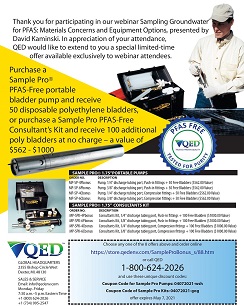 Thank you for participating in our webinar Sampling Groundwater for PFAS: Materials Concerns and Equipment Options, presented by David Kaminski. In appreciation of your attendance, QED would like to extend to you a limited-time offer available exclusively to webinar attendees. Purchase a Sample Pro
®

PFAS-Free portable bladder pump and receive 50 disposable polyethylene bladders, or purchase a Sample Pro PFAS-Free Consultant's Kit and receive 100 additional poly bladders at no charge – a value of $562 - $1000! Offer expires May 7, 2021.